Going Abroad for Your Plastic Surgery
Are you searching for a cheap option for plastic surgery abroad? Have you considered the dangers in plastic surgery tourism?
Many people travel abroad to countries such as Mexico and Dominican Republican for example, to reduce the costs of their cosmetic surgery. This is increasingly so in the last few years. In the United States, 15 million patients seek medical care abroad annually. If you are considering plastic surgery tourism as an option, you need to understand the real risks and costs associated with such a decision.
A new study1 has researched the real costs to patients who have engaged in plastic surgery tourism and to understand the complications arising from common cosmetic surgeries. There were 42 patients in the study who met the criterion. The patients had undergone abdominoplasty, liposuction, buttocks augmentation and breast augmentation with several patients having had combined procedures. Of the 42 patients, 30 had infection related complications, 11 had abscesses, 8 had wound dehiscence, 18 were not pleased with the results and 11 refused to go abroad for treatment in the future. The average cost for the patients to treat their complications was $18, 211. For example, for those who had abscesses, those complications costs patients $39,602.
Nearly 50 % of the patients in the study were not happy with the results of their surgery.
A 19-year-old girl in the study, for example, had an unusual infection, abscesses and open wounds following a tummy tuck. See the photos below.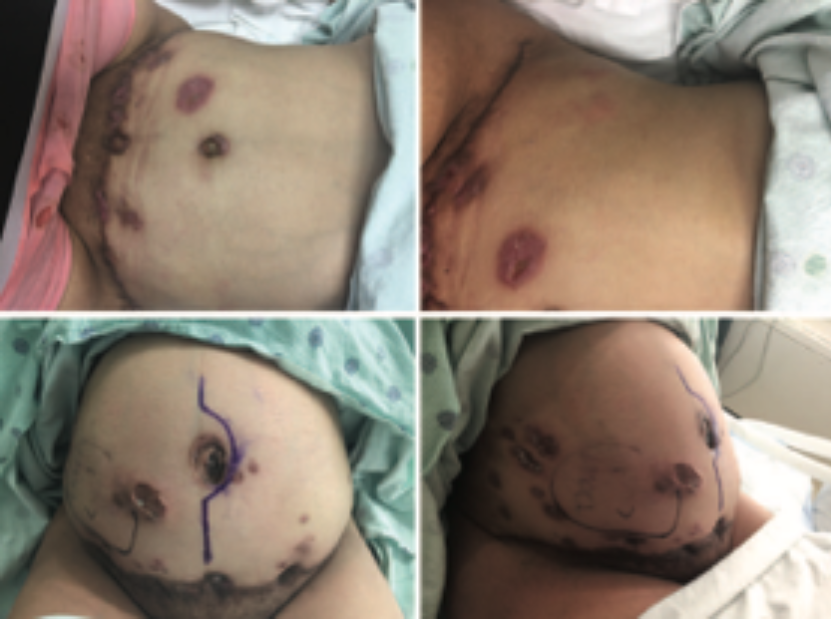 Plastic surgery tourism is a huge industry due to the reduced costs associated with undergoing` cosmetic surgery abroad. However, the risk of complications is real and can have dire, painful and costly consequences. The short-term gain of a cheaper surgery will not outweigh the potential long-term damage. If you are considering cosmetic tourism, come in for a consultation to understand the risks and your options. We offer competitive pricing that will potentially save you a lot of hassle and heartache in the long term.
1Abdabi, K., C. S. Stern, K. E. Weichman, E. S. Garfein, A. Pothula, L. Draper and O. M. Tepper "Population Health Implications of Medical Tourism" Plastic and Reconstructive Surgery. 140(1):66-74, July 2017 July 2017, Volume 140, Issue 1;
2Ibid