Get Back to Work in 24 Hours
You don't feel like your body is balanced enough on top because you don't have curves where you want — and padded bras don't help. You know you want bigger breasts, but just can't afford to take a week off from work.
You have the option of getting what you feel you're missing. You can have bigger breasts that will contribute to the sexier, more womanly shape you've always wanted. 24 hour breast augmentation gives you what you want, without lengthy downtime and waiting around for your results to appear. Dr Kara is a board certified plastic surgeon who has over 30 years of experience. In fact, he was one of the first in Canada to offer 24 hour recovery, and has been performing it since 2004.
Concerned about asymmetry? There are several methods of resolving asymmetry, such as choosing different sized implants, getting a breast lift or undergoing a breast reduction.
Breast Augmentation Photos
Please note that results may vary from patient to patient and there are no guarantees with respect to results.
Dr. Mahmood Kara specializes in 24 hour breast augmentation
Most of the time, patients are advised to stay home from work or school for at least 3-4 days after their surgery. This is recommended because of surgical techniques that cause more trauma than necessary.
Dr. Kara, on the other hand, understands that you're busy and can't take so many days off from your life. That's why he performs 24 Hour Recovery® breast augmentation, so you can get back to normal, light activities faster. This is a proprietary technique that very few surgeons in Canada perform and, in fact, Dr. Kara was one of the first to offer it in the country. He's been performing the procedure since 2004!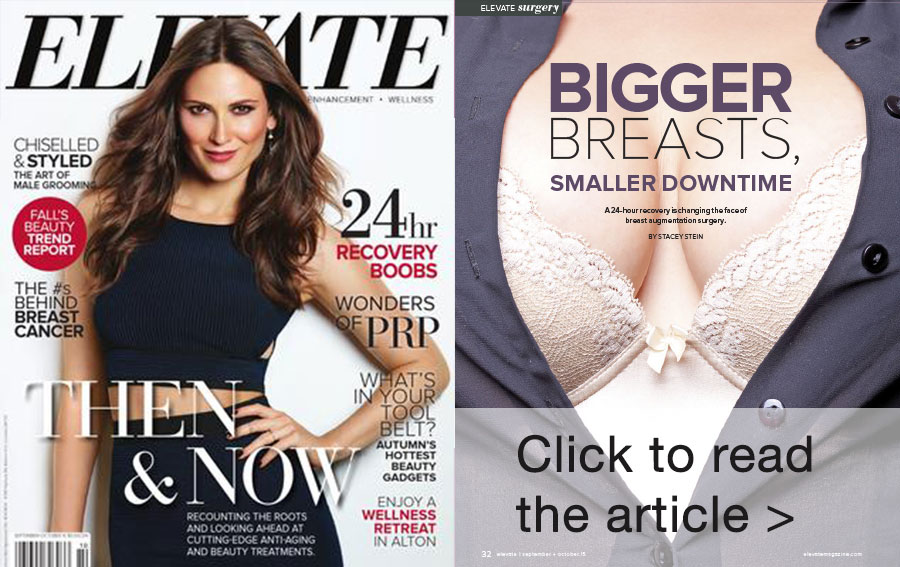 Dr. Kara is one of the top surgeons in Canada that does breast implants, especially well known for a fantastic team of ladies and the 24 Hour / Out to Dinner Recovery. He was also invited to go to the factory in Leiden, Netherlands to learn and understand how implants are actually made. When you choose Dr. Kara as your surgeon, you not only get an experienced doctor with over 30 years of performing breast augmentation, you get someone who is intimately familiar with breast implants. Here are two implants which have his business card that he made himself. Come in for a piece of cake, and a latte and Dr. Kara can tell you how they're made!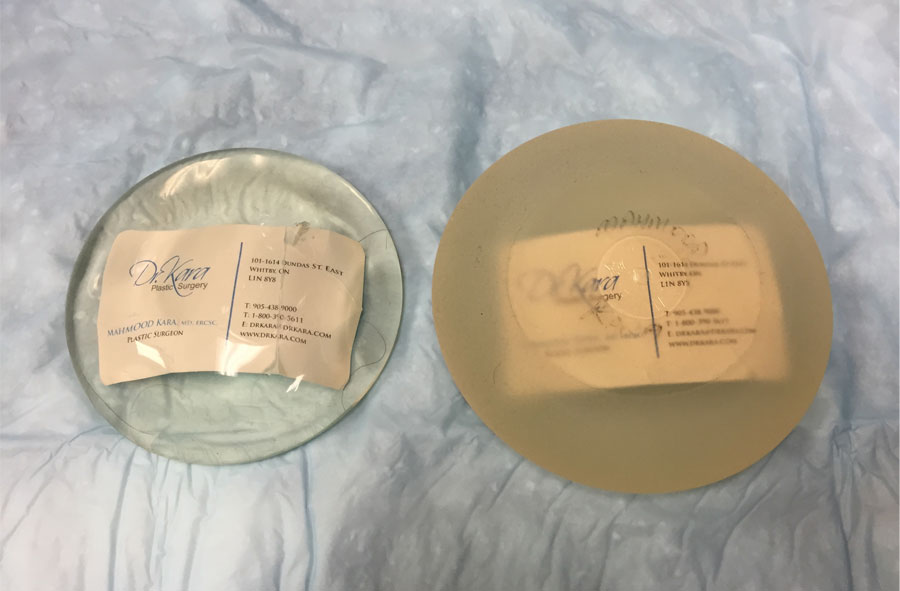 Get Scar Treatments
Want to reduce the appearance of your scars? Get scar treatments with our advanced CO2 laser. This revolutionary technology will reduce the appearance and irregular texture of your scars. On their own, scars take about a year to fade but with our C02 laser, you'll get rid of them much faster.
Practically NO Bleeding or Bruising
Dr. Kara minimizes the amount of blood lost during surgery and the rate of bruising afterward with his unique BloodStop™ Protocol. In fact, we only see about 1 out of 150 patients get a bruise!
How do I choose the right breast implant size?
We spend a great deal of time in the pre-surgery planning phase to help you choose the right size for your breast implants Toronto, because there are so many that are available. While you may have a rough idea of what you'd like, we'll give you a range of sizes that will allow for a lower complication rate, give you better looking results and reduce the chance of you having to undergo revision breast augmentation surgery Toronto. There's no guesswork involved. You'll try on sizers to see how you'll look, using implants from the three top breast implant manufacturers in Canada: Mentor and Allergan (Natrelle breast implants Canada and Inspira).
Two factors are considered when choosing size for nice breast implants: your skin laxity and your body dimensions.
Skin laxity determines the maximum size, because your skin will only stretch so much until it starts to tear. Your skin elasticity will be measured.
Body dimensions, including base width of your breasts as well as the distance between the nipple and inframammary fold, are measured to determine how big of an implant pocket can be made. If you choose an implant that's too big, it will go beyond your natural breast mound. This leads to a number of complications, including "bottoming out" (the implant falls out of the pocket), symmastia (your breasts joining together as one) and abnormal looking breasts.
When you choose the right size and shape based on our measuring technique, studies have found that it reduces infection and the recovery time. It also reduces the reoperation rate from up to 30% in 7 years to under 5%.
It's not a myth; the rapid recovery breast augmentation technique is based on the research of an American surgeon, Dr. J.B. Tebbetts. In his studies, Dr. Tebbetts found that 96% of a group of 627 patients went back to their full, normal activities within just 24 hours of their breast augmentation!
Dr. Kara applies surgical techniques that are far less traumatic than those that are more traditional. The most notable of these advanced techniques are:
Selecting an implant that's the most suitable size and shape for you.
Administering just the right amount of anesthesia: nothing more and nothing less.
Planning what to exactly do during surgery, rather than just "winging it."
Reducing and even eliminating the amount of bleeding that occurs during surgery by an astounding 95% as compared to other techniques, thereby minimizing pain, bruising and inflammation, as well as the risk of capsular contracture. This is achieved by cauterizing the tissues, instead of cutting them, as well as applying a unique BloodStop™ Protocol.
Avoiding blunt dissection when creating a pocket for the implant, which basically involves the surgeon ripping and tearing your tissues without seeing where they're doing it. Instead, Dr. Kara uses specially designed surgical instruments to see exactly where to make the pocket without applying excessive pressure and trauma.
Only specific areas are targeted which results in not only less damage to the interior of the breast but also less scar tissue.
Working with a highly trained and experienced surgical team (anesthetist and nurses) that all know exactly what to do.
Giving you comprehensive details on how to prepare for your breast augmentation experience and what to do to properly recover.
Unlike other surgeons who recommend that you don't lift your arms while you recover, we recommend it after your flash recovery breast augmentation Toronto! You'll be able to lift your arms over your head to help ease swelling. You can take a shower and wash your hair, get dressed and go out to shop or eat the evening of your surgery day.
At a Glance
Price

$8995 (gel)

Recovery

Go home same day

Length Of Surgery

30 to 45 minutes

Back To Work

Most patients are back to work within 24-48 hrs
No downtime breast augmentation consultation
Your initial consultation for rapid recovery breast augmentation is a crucial step on your path to a better you. Based on the information you provide, we'll first assess whether your expressed goals and expectations are possible. It is important that you are considering it for your own reasons. You should do it for yourself, not to please someone else.
We'll take the time to thoroughly discuss your expectations during your consultation, as well as your concerns and outcomes before an examination even begins. We can then assess what the best possible surgical steps are, what the potential risks are for the procedure and the side effects of breast implants, as well as what you can expect pre- and post-surgery. You will not feel rushed or hurried through the consultation process and every question will be answered carefully and thoroughly.
breast implants surgery video
Rapid recovery breast augmentation surgery steps
Preparation
You won't need to stop smoking before your breast augmentation surgery procedure, but it's better if you do at least 2 weeks before. That wil help improve your recovery from breast augmentation.
You may need to get a mammogram before your surgery, especially if breast cancer runs in your family.
Wear comfortable clothing on the day of your surgery, like a loose fitting top and bottoms with an elasticized waist.
You may need to avoid food and drink on the night before your surgery.
Surgery: how breast augmentation is done
Your surgery takes only 30 to 45 minutes. It doesn't take long because Dr. Kara plans the surgery precisely, uses tools that are specially designed to reduce trauma and only targets the tissues that need to be modified to reduce the amount of scar tissue. He knows exactly what to do and uses the right tools, so he never has to speed through your procedure.
Your surgery will be performed at our private state-of-the-art surgical facility located in Rouge Valley Centenary Hospital. Dr. Kara is the only plastic surgeon in the Toronto area with a private surgical facility in a hospital. You'll be able to enjoy the privacy and comfort of a private facility along with the emergency capabilities of a public hospital. Dr Kara is considered by many to be the best breast augmentation doctor in Toronto.
You will be administered anesthesia for your comfort.
For 24 hour recovery, incisions are made inconspicuously in the breast fold and an implant pocket is meticulously made. Transaxillary breast augmentation can also be performed, however the technique generally involves a longer recovery period.
A breast implant is inserted into the created pocket, which may be under the pectoral muscle (submuscular) or under the breast tissue (subglandular).
Sutures are carefully placed to close the incisions.
You won't feel nauseous once the surgery is done, but will probably feel a little tired.
Expect to stay at our surgical facility for at least 3 hours. That time includes the pre-op, the breast augmentation surgery time itself, and recovery under observation.
What will my scars look like?
Scarring is probably a big concern for you, like it is for us! We know you don't want bad scars. You can be assured that your scars will fade properly with care techniques that Dr. Kara prescribes. This includes scar therapy with CO2 fractional laser. The therapy will make your scars fade as much as possible!
Recovery period: How is breast augmentation recovery?
Before leaving our surgical center, you will be given specific instructions that will include how to care for your breasts following surgery. Following them will ensure a smoother 24 hour breast augmentation recovery. This includes taking any medications to help with your recovery and avoiding certain medications that may promote bleeding and bruising (for example, ibuprofen after breast augmentation may increase bleeding).
Your breasts may be a little sore after the procedure but this should go away soon. This won't stop you from going out in the evening of your surgery day so your recovery for breast implants will be minimal.
Sleep on your back but with your head propped up on pillows. This alleviates pressure on your chest and alleviates swelling.
You'll need to stretch your arms a bit to alleviate swelling.
You can get back to normal activities in 24 hours, but you should avoid strenuous activity, like weightlifting and other exercises targeting the pectoral muscles, for 3 weeks. This restriction is only there to protect your incisions so they don't split.
At 1 week, you'll be taught how to properly massage your breasts to help them settle better.
You will need to wear a compression bra after surgery.
Cleavage and Breast Augmentation
Décolletage. One of the classic signs of beauty and seductive femininity, showing the neck, the shoulders, and the chest, cleavage dates back to the 11th century. Aesthetic cleavage was perceived as a sign of beauty, wealth and social stature. Not much different from today when you think about it.
These days, when a woman is considering breast augmentation, the subject of cleavage is often mentioned. Mostly for the same reasons. After all, cleavage flirts and flaunts, and you might agree that is often one of those feminine factors that women hope to have.
Will Breast Augmentation Give Me Nice Cleavage?
The truth is…it might. Enhancing your cleavage is not as easy as it sounds. While you can take measures to make your breasts bigger, it's not guaranteed to give you cleavage. In fact, for some women, it may be impossible.
So the real truth is this: whether or not you see cleavage post-operation has more to do with your natural anatomy than with your plastic surgeon.
That's why enhancing your cleavage with breast augmentation can be tricky. One of the problems is, like when you get your haircut and you have a different idea of about a certain "look" than what your stylist is thinking, you might be envisioning breasts that look different from what your plastic surgeon has in mind.
This is why it's so important to be very clear in your communication. Once you're on the same page as to the type of "look" you want, it's also very important to discuss what can be achieved—realistically and safely.
What is cleavage anyway?
Isn't cleavage when the breasts touch? It seems very simple but there's actually more to it. Cleavage is actually defined by the International Federation of Associations of Anatomists (IFAA), as the space between the breasts. Dr. Kara will want to know HOW much or how little space you're hoping to have and WHERE that space is widest or smallest in order to get a better idea of what cleavage means to you.
Types of cleavage
Pictures can go a long way in ensuring that both you and Dr. Kara have the same idea in mind, but it also helps to have the words to describe what you'd like to see. There are many ways of describing cleavage and one simple way just describes where the fullness is when you're looking straight at the breasts when you're standing up – either Upper Fullness or Medial Fullness. "Upper fullness" refers to how full the upper part of the breast is and "medial fullness" refers to how full the part of your breasts is where an invisible line would run through to connect the two nipples.
Another way of describing the space between the breasts (or the "negative space" for you artist types) is to relate it to the shape of drinking glasses:
The "Champagne Glass" describes a space that looks similar to a champagne glass. It's a fairly narrow space between the breasts but the breasts do not touch at all throughout the full length of the breast. Although, it's likely that near the top, the space does round outward to create a slight "V" shape.
The "Cocktail Glass" describes a space that has a definite "V" shape, where the breasts touch, or nearly touch in the middle or towards the bottom of the breast before rounding away from each other at the top.
The "Hourglass" breasts have a defined "V" shape in both on the upper and lower parts of the space between the breasts, nearly touching in the middle.
The "High-ball" cleavage describes a significant space between the breasts that hardly curves out outward at all, staying mostly parallel from the top to the bottom of the breast.
The sad truth on why cleavage isn't for everyone
Once you've identified the look and are able to communicate it, your plastic surgeon can begin to evaluate whether the cleavage you want is actually realistic for your body type. As mentioned before, cleavage actually has more to do with anatomy than anything else.
The muscles under your breast, as well as the shape of your chest wall, will determine how much cleavage you will have post-surgery.
The chest muscles
It may seem that cleavage can be achieved by simply placing the breast implants closer together, but that's not the case. Doing so can cause problems, like the implants showing or causing a "ripple," having an unnaturally shpaed breast (possibly with the nipples on the side of the implants instead of centered on them), or heaven forbid—the uni-boob! Uni-boob is the layman's term for symmastia.
Also, when the implants are placed under the chest muscles, there is only so much wiggle room. This strictly limits how close the implants can be to one another. You can't disconnect or move the muscle itself or you risk complications with daily movement, like moving your arms for example.
The chest wall
The way your chest wall is formed also has a lot to do with how your cleavage appears post-surgery. There are three types of chest walls. These are determined by how inclined the curve of your rib cage is and where the position of the breastbone relative to the rib cage is. Here are a few common scenarios:
Flat Chest with a Neutral Breastbone. The breastbone is relatively flat, neither extending inward or outward from the rib cage. This will typically give some cleavage because the nipples will face straight outward (or nearly so) and not to the sides.
Prominent Chest Bone and Sloping Chest Wall. The chest bone extends slightly out and your rib cage curves around your lungs with a steeper incline (pectus carinatum). This results in naturally wide cleavage.
Depressed Chest Bone. The breast bone here is slightly more depressed into the chest compared to the position of the rib cage, typically causing a narrower cleavage (pectus excavatum).
Cleavage or no cleavage — let's sum it up
The truth is, breast augmentation makes the breasts bigger. Simply enlarging the breasts does typically give you more chance of cleavage. Yet, it cannot change the anatomy lying under them that determines the space between the breasts.
While you should know what you're looking to have — and maybe the descriptions above can help you describe it in detail — listen to the advice Dr. Kara gives you on what can realistically and safely be expected for your anatomy.
Breast Augmentation Q and A
What is a breast augmentation procedure? What is breast augmentation procedure? What is bilateral breast augmentation? What does bilateral breast augmentation mean?
This is a cosmetic surgical procedure that enlarges the size of a woman's breasts. It can also give the breasts more fullness and better symmetry. Bilateral means both breasts.
Natural breast augmentation Toronto: Is there breast enlargement without surgery?
There are many pills, creams and magical potions that are being touted as being able to enlarge the breasts naturally. Wouldn't it be amazing if they were could? Unfortunately, none have been scientifically proven to be true nor have they been FDA approved. "Natural" breast enhancement and breast augmentation without surgery is still impossible.
How much are breast implants in Toronto? The best price for breast augmentation: What are the typical breast augmentation prices? Are breast implants affordable?
There is such a huge range in pricing, but the average is about $8000 to $10,000.
Rapid recovery breast augmentation cost: What is the cost of breast augmentation in Canada? What does breast augmentation cost? How much is breast augmentation surgery? How much does breast augmentation cost in Toronto?
The Toronto breast augmentation cost in Canada ranges from $8000 to $10,000. This figure tends to include all fees (surgical facility, surgeon, anesthetist, nurses, etc.).
The only additional flash recovery breast augmentation cost that may not be included in this figure is medication and support garments, if they're at all necessary. The 24 hour recovery breast augmentation cost is average for this area, even though you're getting a more advanced technique!
How much does a breast augmentation cost in Ontario?
The cost in Ontario ranges anywhere from $7500 to $11,000. Typically, silicone implants make the cost higher.
The only additional flash recovery breast augmentation cost that may not be included in this figure is medication and support garments, if they're at all necessary. The 24 hour recovery breast augmentation cost is average for this area, even though you're getting a more advanced technique!
Is financing a breast augmentation possible? I need plastic surgery but can't afford it.
If you need financial assistance for your breast augmentation surgery Toronto, let us know. We'll help you get affordable financing to make your breast augmentation cost Canada more affordable.
What happens if you get breast augmentation with stretch marks?
If you get larger implants, your stretchmarks may get worse in appearance. However, proportionately sized implants shouldn't affect your stretchmarks following breast augmentation in Toronto. As one of the top rated breast augmentation surgeons Toronto, Dr. Kara will provide you with accurate breast implant info so that the risk of developing stretchmarks is minimized.
Do you have breast augmentation before and after photos?
Yes, we have a few before and after breast augmentation Canada photos on our site that you can see now. During your consultation, you can also see more pictures of breast augmentation, including large breast implant photos by Dr. Kara Plastic Surgery, Whitby cosmetic surgery clinic.
Can I get breast augmentation with local anesthesia?
At this time, we don't believe the procedure can be safely performed with local anesthesia.
My areolas are too big. Can I get breast augmentation with areola reduction?
Yes, Dr. Kara Toronto can definitely reduce the size of your areolas at the same time.
Breast augmentation and factor v leiden: Can I still get breast implants?
Factor 5 Leiden is a blood clotting disorder. As long as your hematologist says it's okay, you can proceed with surgery. However, the risk of developing pulmonary embolus (PE) and deep vein thrombosis (DVT) is higher. You may need to take an anti-coagulant.
What does ICD 9 s/p breast augmentation mean?
This is a code used for a billable medical procedure on a reimbursement claim dated before September 2015. After this time, ICD 10 is used.
Cosmetic surgery near me: Is there breast augmentation near me?
If you're in the Greater Toronto area or Whitby, contact us to discuss your aesthetic concerns. Our surgeon is one of the top plastic surgeons in Toronto and best breast augmentation surgeon in Canada.
What types of breast augmentation are there?
There are a couple of breast augmentation types. Incision placement and implant placement differentiate the different types. What breast implants are made of also differentiates type. The most popular, by far, is by using silicone breast implants or saline breast implants. What breast implants to get is based on your preferences and the surgeon's recommendations. However we do believe that silicone implants, also known as gummy bear implants, achieve a more natural look and feel.
There is one other type: Sub Q breast augmentation. This is an injection of Macrolane, an injectable filler product, into the breasts to add volume. However, this is not available in Canada and does not have FDA approval.
Who are the best breast augmentation surgeons?
Reputable surgeons are those who are board certified, experienced, have a good professional reputation and remain up-to-date with the latest advances in cosmetic breast surgery and even other cosmetic procedures. You should also have good rapport with them.
What are the benefits of breast augmentation Canada?
There are many benefits of cosmetic breast augmentation, and many have been recorded in the BREAST-Q Augmentation module, a questionnaire that measures outcomes as reported by patients. By simply increasing the size of your breasts, you'll enjoy:
a more feminine body shape
boosted self confidence
clothes that will fit you better
the feeling of being more attractive and sexier
What are the cons of breast augmentation?
To make an informed decision, review all the risks related to surgery. These cons may outweigh the pros.
Is a breast augmentation safe? What are the dangers of breast augmentation?
This surgery is the most popular surgical procedure in North America for women. Hundreds of thousands of procedures are performed every year, and there have been millions performed over history up to now. There are risks, but the complication rate is so low that the procedure is considered extremely safe.
Temporary or permanent nipple or breast sensation
Capsular contracture
Bleeding and bruising
Incision healing complications
Hypertrophic scarring and keloids
Implant displacement
Ruptured implant
Seroma or hematoma
Can I get breast augmentation with a cold?
If you have a fever or other infection, then your boob augmentation surgery will be rescheduled. This is done because any active infection can delay your breast surgery recovery and compromise your health.
Can I get breast augmentation with pectus excavatum?
Pectus excavatum is when the sternum sticks out past the rest of the chest. Surgery can be safely performed if you have this deformity. Getting breast implants can actually hide the appearance of pectus excavatum.
Does a breast augmentation hurt? Is a breast augmentation painful?
You'll be under anesthesia, which means the actual breast implant surgery procedure will not hurt at all. Because of our advanced surgical breast augmentation techniques, you'll only feel minimal discomfort, if at all. You may gradually feel tingly as well. This happens slowly and is a sign of nerve regeneration, which is totally normal.
What does d&f after breast augmentation mean? Do implants get bigger after they drop and fluff?
"D" stands for "drop" and "F" stands for "fluff". Drop and fluff is an informal term that describes what happens in the months after your surgery. Right after surgery, your breast implants Toronto will sit high up on your chest, look flattened out and may even have a rectangular shape. Do breast implants look smaller at first? Yes, but don't be alarmed! With recovery, your tissues will relax and expand, allowing your implants to "drop" and settle into the breast pockets created during surgery. As this happens, your implants will also "fluff" out, meaning that they won't be compressed and flattened out anymore. By three months or so, your breasts will look the way you hope they'll look! Do breasts get bigger after drop and fluff? (Do breast implants get bigger when they drop?) They may look like it, since they get less flattened and are able to "fluff" out.
What is the breast augmentation recovery like? What is rapid recovery breast augmentation? How is breast augmentation rapid recovery? What is flash recovery breast augmentation?
Dr. Kara is a breast augmentation specialist and is considered the best breast implant doctor by many of his patients. He performs 24 hour breast augmentation, which is why you'll be able to recover very fast after your surgery. Unlike other surgeons who tell you to wait a few days before going back to work, you'll most likely need only one day to recover. Get surgery done on Saturday, then get back to work by Monday! The recovery of breast augmentation by Dr. Kara is faster and far more comfortable.
What to expect 6 weeks post op breast enhancement?
At 6 weeks, you should be able to get back to all of your regular activities. Depending on the size of your implants and skin quality, you should also be able to get a general idea of how your final results will be.
Can smoke an e cig after breast augmentation 24 hour recovery?
For faster recovery and better results, avoid smoking in any form for at least a week after your breast enlargement Toronto surgery. However, you won't have to avoid smoking forever if you simply can't. You can start smoking again after the initial recovery time for breast augmentation.
When can you drink after breast augmentation? How long after breast augmentation can I drink?
Dr. Kara doesn't take any chances with your well being or your final surgery results. He advises a protocol which includes not drinking alcohol for two weeks before surgery. However, even though that's the safest suggestion, it's not mandatory. Dr. Kara understands that life gets in the way and you may slip and end up drinking within the two week period. For that reason, he takes an extra precaution during surgery to minimize and eliminate bleeding and subsequent bruising.
When can I exercise after a breast augmentation?
You can do cardio a few days after your surgery, but you'll need to wait about three weeks before you start lifting weights again. This is to protect your incisions.
Where are the breast augmentation scars?
Breast implant surgery requires incisions made to insert the implants. The location of your scars depends on where the incisions are made: underneath the breast (inframammary), around the nipple (periareolar), or in the armpit (transaxillary). For the fastest recovery, the inframammary incision is preferred. Scar treatment with CO2 fractional laser can be performed. You can start your scar treatment 48 hours after your surgery. This results in fading your scars by about 80%, making them finer and less coloured.
Breast augmentation with mastopexy: Do you perform breast augmentation with lift?
Yes, we perform an amazing breast augmentation with lift that raises the breasts and makes them bigger without any implants! The breast lift and augmentation surgery uses your own breast tissue to make them perkier and larger, so you don't actually need breast implants surgery. Your breast lift and augmentation cost can be discussed during your consultation.
Is it safe to fly after breast augmentation surgery? How is it flying after a breast augmentation? How long after breast augmentation can I fly?
No harm is done if you fly after your breast implant procedure. Once you've recovered from your breast surgery Toronto, you're free to fly as much as you'd like without damaging your breast implants.
Is breastfeeding after a breast augmentation possible?
Yes, augmentation breast surgery doesn't interfere with breastfeeding. If you're planning on breast feeding, let us know.
Do I need to massage after my surgery?
After your new breast augmentation, massage may be recommended to help your recovery. If it is, we will teach you how to do it without causing pain or harming your results at 3 weeks after surgery.
Does B12 after breast augmentation help?
The jury is out on this one. Some people think that it can help with nerve regeneration to resolve lasting numbness for a fast recovery, but most don't think it is beneficial at all. There is no evidence to suggest either way when it comes to post breast augmentation.
How long does bloating last after breast augmentation?
Swelling and bloating are common after surgery and can last for several weeks and months. By following your post-op care instructions, you'll be able to speed up your healing process and deflate at a faster rate.
How long are breast swollen after augmentation?
Swelling can last for up to a year, however with a proper recovery most of it will go away within 3-4 months.
How long does it take for silicone implants to drop?
Silicone implants usually drop within the first 4 months or so following your surgery. However, it can take longer for larger implants in patients who have tighter, firmer skin.
How soon after breast augmentation can I return to work?
You can get back to sedentary desk work the day after your surgery. For more physically demanding work, you may need to wait until about 2 weeks or so before you can return to work.
Is pain after breast augmentation normal?
Pain is not uncommon following surgery. You may feel a dull ache following your surgery. In the weeks that follow, you may also feel tingly. This indicates that your nerves are regenerating and it is totally normal. However, if you feel sudden pain or a sensation that causes you concern, please call us just to be on the safe side.
Breast Implants Q&A
What breast implants sizes are there?
Sizes range from 150cc up to 800cc and over for huge breast implants. These sizes are available in both silicone and saline breast implants. If you want to go smaller or bigger than this range, it is possible — just let us know because we can custom order your desired size. Most of our patients end up with a D cup size, depending on the bra they're wearing. (Cup size isn't standardized by bra makers.) Extra small and extra large breast implants are available.
How do breast implants work?
Breast implants add volume to the breast, making them larger. They are inserted into the chest.
Are breast implants hard?
Just breast implants should not be hard, even A to D breast implants. They are designed to mimic natural breast tissue after cosmetic augmentation, whether theyr're small breast implants or 800cc breast implants. However, any hardening of the implants is caused by an overgrowth of scar tissue surrounding the implant. This complication is called capsular contracture and can cause the implant to feel hard, so they don't feel like natural boobs. Dr. Kara takes great care to reduce the risk of capsular contracture by applying advanced techniques during your cosmetic breast implant surgery.
How much are breast implants? Are breast implants expensive? What is the price of breast implants in Canada? What is the cost of breast implants?
Whether you choose Allergan or Mentor breast implants Canada, usually breast implants cost a couple thousand dollars. The price is determined by the surgeon and is also based on the manufacturer's cost. Silicone tends to cost more than saline. The rest of the Toronto breast augmentation prices cover the fees for your surgeon, surgical facility, anesthetist and all pre- and post-operative appointments. You can find out a complete breakdown of pricing during your plastic surgery Whitby consultation.
What is the best implant for breast augmentation?
Each patient is different, therefore there is no single implant that is the best. The best implant depends on your goals, body type, and the experience of your surgeon.
Should I get breast implants?
This is a question that is up to you to answer. If you want larger breasts and feel that they'll improve your confidence, then cosmetic surgery breast augmentation may be an option for you. We can help you make the decision by supplying you with accurate breast augmentation info.
What are breast implants made of: Which is better for my breast augmentation: saline or silicone?
Breast implants are made of a silicone shell filled with saline or silicone. Dr. Kara Toronto is an extremely skilled breast implant surgeon. He is one of the most experienced plastic surgeons in Toronto, having performed the procedure for over 25 years. Dr. Kara can give you amazing breasts using saline or silicone breast implants, although silicone, also known as gummy bears or cohesive gel, tend to be more popular.
Breast implants x ray: What happens?
X rays after breast augmentation can be performed, even with large breast implants. The x-ray will pick up your implants whether they're saline or silicone. Please inform your radiologist that you have implants.
Will I need a breast lift with implants?
Before your surgery, Dr Kara will examine your breasts and their perkiness to determine whether a lift is needed to achieve your goals.
Can you lay on your stomach with breast implants?
Once you've recovered, you'll be able to lie on your stomach and perform any other usual activities.
Does Dr. Kara use Biocell implants?
No. Dr. Kara has known about the serious complication that may arise with Biocell implants for years. For this reason, he almost exclusively uses only smooth implants, NOT Biocell. If you have Biocell implants, read more here.
What are Biocell implants?
Biocell is the name of the textured surface on Natrelle breast implants manufactured by Allergan.
What is BIA-ALCL?
BIA-ALCL stands for Breast Implant-Associated Anaplastic Large Cell Lymphoma. It is typically found near the implant, within the surrounding scar tissue and fluid.
Recently there has been concern and media exposure regarding BIA-ALCL as a complication related to breast implants. This is very rare and only occurs with textured surface implants, known as Biocell (a type of implant that Dr. Kara never uses).
Please be assured that BIA-ALCL has never occurred with smooth implants and it is still very safe to proceed with breast augmentation. We are here as a resource and will see, help and advise anyone with questions or concerns.
What is the average recovery time for breast augmentation?
BIA-ALCL stands for Breast Implant-Associated Anaplastic Large Cell Lymphoma. It is typically found near the implant, within the surrounding scar tissue and fluid.
Recently there has been concern and media exposure regarding BIA-ALCL as a complication related to breast implants. This is very rare and only occurs with textured surface implants, known as Biocell (a type of implant that Dr. Kara never uses).
Your beautiful new look
Others have always thought you had bigger breasts, but that was only because of all of the padded bras you've been wearing. Get bigger breasts for real and you'll finally enjoy having the sexier body you've always wanted.
More information about breast enlargement and breast implants